Last updated on July 20th, 2017
React (also reffered to as React.js or ReactJS) is an open-source JavaScript library created by Facebook. React is a view library. In other words, it's the V(View) in MVC(Model–view–controller). ReactJS focuses primarily on speed, simplicity and scalability.  Some ReactJS features include Virtual DOM, One way data flow, JSX, etc. Notable users of React include Facebook, Instagram, Airbnb, Netflix, etc. ReactJS is the hottest JavaScript framework out in 2017. Job opportunities are limitless and only growing. With the announcement of React VR, the demand for React developers will only increase. This is the prefect time to get started with React.js
There are many ReactJS tutorials in 2017 with new ones coming out all the time. Primarily they are ReactJS books, courses and videos. But what is the best way to learn React.js? That simply depends on you. We've curated some of the very best ReactJS books,videos, courses and tutorials. Do keep in mind that ReactJS is a fast evolving language and the content  may not be up to date. However, the basics will pretty much be the same throughout the versions and will be applicable. This is by no means a comprehensive list and will be regularly updated, so keep this bookmarked.
Best ReactJS videos in 2017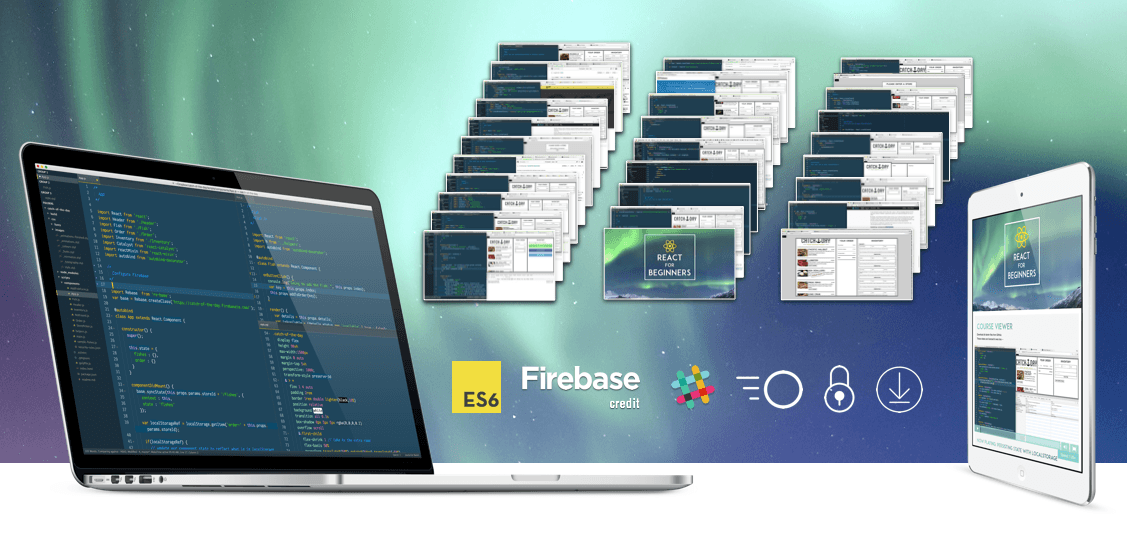 React For Beginners by Wes Bos teaches everything you need to quickly get started with ReactJS. This ReactJS course has been recently updated and re-recorded for 2017. React For Beginners will have you build a real world ReactJS app combined with FireBase. While making this app, you will learn about all the features and ways of ReactJS. This ReactJS course is absolutely perfect for beginners in 2017. Even advanced ReactJS developers will learn how to become a better ReactJS developer.
Modern React with Redux by Stephen Grider is great for beginners to both React and redux.  This course will help you master ReactJS and Redux. You will also use including NPM, Webpack, Babel, and ES6/ES2015 Javascript syntax. This ReactJS tutorial will teach you everything about developing with ReactJS & JavaScript in 2017.
Advanced React and Redux by Stephen Grider is great for intermediate React & Redux developers. This course is very thorough. You will build a scaleable API with authentication using Express, Mongo, and Passport. You will learn what Higher Order Components are and how to build them efficiently. This is one of the best ReactJS courses for advanced React Developers in 2017 and those that have mastered the basics of React.
GraphQL with React: The Complete Developers Guide by Stephen Grider will teach you how to build amazing single page applications with React JS and GraphQL. You will become fluent in the ecosystem supporting GraphQL, including Apollo and Relay. There are not many GraphQL tutorials or books out. But this is definitely one of the best GraphQL courses in 2017 that shows how and where to use GraphQL.
Full stack Universal React with Redux, Node js and MongoDB by Marco Tomasello will teach you how to make full applications with ReactJS and other technologies. A particular focus is placed on using Redux, Node js, Express and MongoDB. You will also be deolplying your Reactjs Application to Amazon Web Services (AWS) and to Heroku. This course is a great way to learn how to use Redux in 2017.
React VR – Creating Virtual Reality Apps will teach you to create the virtual reality apps using ReactVR. Included: React. js, ReactVR, ES6, JavaScript, & more! React VR will be taking off in a big way in 2017. Now is the ideal time to get started with React VR. This is the besty beginner course in React VR.
Complete React JS web developer with ES6 – Build 10 projects by Igneus Technologies will teach you how to master ReactJS by completing 10 projects. You will also use ES6, firebase and Auth0 in your ReactJS applications. Looking at ReactJS Examples and building them up is one of the best ways to learn Reactjs development.
Best ReactJS books in 2017
React: Up & Running: Building Web Applications by Stoyan Stefanov is one of the best ReactJS book around in 2017 and you can read our extensive and fully detailed review here. Stoyan Stefanov's background as an engineer at Facebook gives him expertise above most other authors in the ReactJS world.
React: Up & Running does not assume mastery in anything and holds your hand throughout the whole process of getting started with ReactJS.  Suffice to say, that review alone should tell you why this is a book you must read.
React: Up & Running is a book that every ReactJS developer needs to read. ReactJS developers of all skill levels need to check out React: Up & Running. This is quickly becoming a classic ReactJS book.
Learning React by Kirupa Chinnathambiis a hands-on guide to building high-performing applications in ReactJS and you can read our comprehensive and full review here. Learning React is also the newest book on our list, having been released very recently and is probably the most up to date ReactJS book out at the moment.
Learning React is well written, this book guides you from the basics of ReactJS all the way to creating complex multi page apps. Learning React also deals with using JSX, BabelJS, Webpack and other tools to shape your ReactJS workflow.
Learning React is a great book for beginners and serves as the perfect introduction to ReactJS. You will get started on the path to learning React with this book.
Pro React by Cassio de Sousa Antonio teaches you how to successfully structure increasingly complex Reactjs applications and you can read fully detailed  and comprehensive review here. Best practices in using ReactJS are discussed along with using ReactJS libraries and tools such as React Router & Flux.
Pro React is written using the ES6 syntax and is a great plus. Every chapter focuses on building Reactjs components and the concepts behind it. This book does have a few formatting issues.
Pro React deals with all Reactjs topics in a detailed way and goes about discussing the most common problems you might face. If you are trying to be a pro in ReactJS, you should check out Pro React.
Mastering React by Adam Horton & Ryan Vice teaches you to master ReactJS starting from a beginner level.
Mastering React starts with the fundamentals of ReactJS and takes a pragmatic approach. This book will teach you the React component lifecycle & core concepts which you can then use to make ReactJS single-page applications.
Mastering React is a comprehensive guide that helps you fill the gaps in your ReactJS knowledge. This book will help you learn all about ReactJS.
React.js Essentials by Artemij Fedosejev, who is a technical lead based in London.
This book is about 200 pages and is ideal for people who want to learn as quickly as possible as it can be finished in a couple of days. This book has great explanations of Flux, Jest and React components life-cycle.
React.js Essentials is a great introduction to ReactJS for beginners. React.js Essentials will take you on a speedy journey through making your own  Reactjs application.
ReactJS Blueprints by Sven Robbestad gives you a workflow to accelerate your ReactJS development.
ReactJS Blueprints focuses on the advanced side of ReactJS dev. This book is all about the optimization of development environments and workflows so that you get things done fast.
ReactJS Blueprints is quite an advanced guide to the world of ReactJS. ReactJS Blueprints will help you build your structure and build your own components which you can then combine to build your Reactjs app.
ReactJS Cookbook by Johannes Stein won't help you cooking your dinner but it will definitely help you cooking up some tasty ReactJS apps!
This book is full of recipes to cookup ReactJS apps for different kinds and types. ReactJS Cookbookalso shows you how to work with ECMAScript 6 and React Native
ReactJS Cookbook currently has a new edition being written and if it is like the first edition, then we have another classic on our hands! This is a React.js book that every React.js developer should have on their shelf!
These ReactJS tutorials serve as a great starting point to learn Reactjs in 2017. Even if you are an experienced ReactJS Developer, these tutorials will help you gain more knowledge.
Amazon Associates Disclosure: We are a participant in the Amazon Services LLC Associates Program, an affiliate advertising program designed to provide a means for us to earn fees by linking to Amazon.com and affiliated sites.